Page additons, rants, garagekit news, etc...



Some of the kits that I have painted for myself and other people.



Some miscellaneous photos that I think you might be interested in.



300+ modeling-related sites at your fingertips!



Modeling tips and tricks for everyone!



Answers to your most pressing modeling questions.



Reference material for accurate painting.




Latest Additions
Click Images To Enlarge

Logan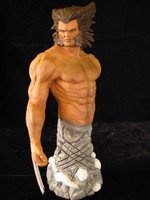 Gorilla
Nice bust by Scott Taylor.


Clone 3
From Alien Resurrection.


She Creature
Now resides in Bob Burns' personal collection!