SOTAR 20/20 - The Thoroughbred of Airbrushes


I'll admit that I was a bit skeptical when I heard about the Sotar 20/20. I figured what the heck, if I need lines that fine, I'll use a brush. Right. This brush is necessary when it comes to detailing a kit.
The paint reservoir holds enough paint to last longer than you think and it is a breeze to clean. I just spray some Testors cleaner through it, loosen the chuck, and retract the needle. After cleaning the needle, I re-insert it and lock it down.
The trigger action is smooth as silk also. You literally feel like you are drawing with the airbrush! Be sure and keep your paint thin though. I thinned my Freak Flex paint down a bit further with some Polly-S Airbrush thinner before spraying it through this brush.
All Sotar brushes are pre-tested The wide range of lines below were painted with my airbrush before leaving the factory to reassure me that this brush has quite a spraying range to it. Although the scan doesn't show it well, some lines are needle thin!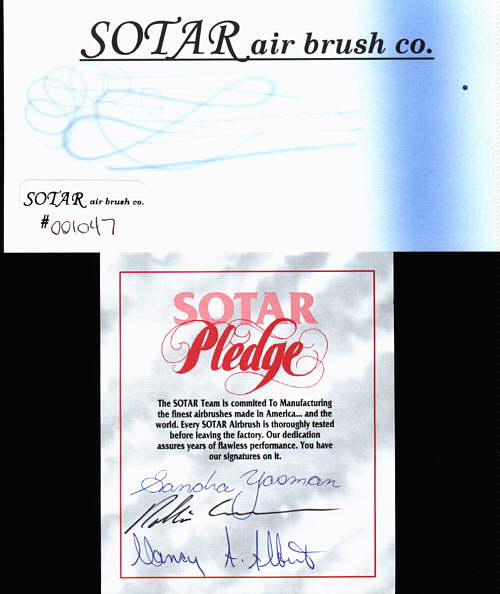 SOTAR Airbrush Company
7325 W. Irving Park Rd. Suite 140
Chicago, IL 60634
Phone: (847) 928-9258
I got mine from The Doll & Hobby Shoppe.




If you have any questions, please feel free to write: me