Garage Kit
Figure Modeling
Bases for your Bases
Have you ever had a base for your kit that had a rough underside or leached resin? If you have, you know that it could scratch your beautiful wooden shelf or leave a ugly stain. Or, have you ever gotten the bottom of a base signed by the sculptor or the person who is portrayed in the kit and you do not want those precious signatures smudged? Here are two easy techniques to prevent these things from happening.



Raise the kit.
If you have a base and you do not want it to make contact with the table or shelf, raise it with something. You can find rubber pads for just this purpose. I found these magnets at Wal-Mart that do just as well. All you have to do is glue four to each corner of the base and nothing touches but the pads!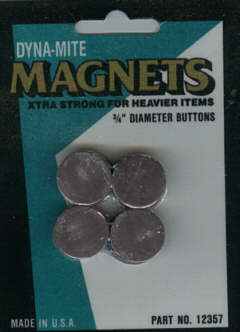 Cover the bottom of the base.
I use felt on the bottoms of some of my bases to protect the furniture. Presto-Felt can be found at Wal-Mart or any art supply store and is about the easiest to use because it has a self-adhesive backing. I first trace an outline of my base on a piece of paper. I then cut the newly created pattern and tape it against the paper side of the felt. I then cut the felt using my pattern as a guide. I then peel off the paper and stick the felt to the bottom of the base.

If you have any questions, please feel free to write: me